Buy Cheap Microsoft Visio Professional 2016 Product Key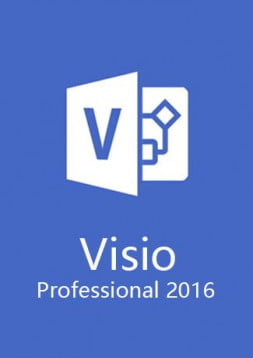 Visio Standard 2016
Whether you want to capture a flowchart from a whiteboard, map an IT network, build an organizational chart, document a business process, or draw a floor plan, Visio helps you lay out information in a way that's easy to understand.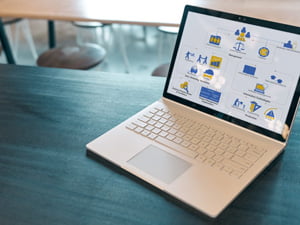 Create Professional Diagrams Quickly
Create network diagrams, flowcharts, maps, and floor plans with refreshed shapes and templates.
Versatile templates and thousands of shapes – Use one of the many prebuilt templates from Visio and boost productivity with ready-made shapes.
Smart shapes – Use visual cues to accurately represent metadata embedded in Visio shapes. As metadata such as dimension changes, the visualization updates automatically.
Ability to import DWG files – Add shapes to imported AutoCAD designs (support up to DWG 2010), and simplify or enhance advanced visualizations with ease.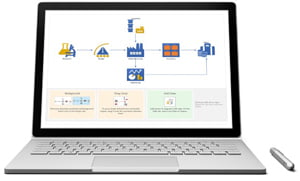 Get Started Easily
Perform common flowcharting activities with ease, thanks to the familiar Office experience.
Fast startup – Get up to speed quickly with Starter Diagrams and contextual tips and tricks that walk you through basic capabilities.
Easy flowcharting experience – Perform common diagramming activities – like changing shapes, auto aligning and positioning, or duplicating and reordering pages – with an intuitive experience that preserves the connections of the shapes.
Intuitive search – Use the Tell Me search bar to quickly find useful features in Visio.
Built-in themes and effects – Customize diagrams using a powerful set of effects and themes, and apply a completely different look to your design in just a few clicks.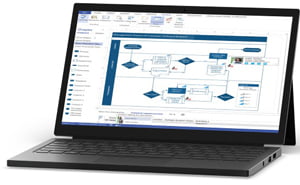 Collaborate throughout the Process
Collaborate however you want. Add comments to a diagram or shape, or chat via Skype for Business* directly from Visio.
In-app commenting – Get or give feedback easily on a diagram or shape.
Integration with Skype for Business* – Work together easily through integrated communication tools like Skype for Business. Use voice, video, or chat within Visio, eliminating the need to switch between apps.
* Skype for Business is licensed separately.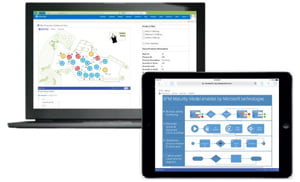 Communicate One Version of the Truth
Share diagrams easily with anyone across your organization, from nearly anywhere.
Easy diagram sharing – Easily share diagrams in a browser with anyone across your organization to gain alignment. Create visibility into best practices, policies, or future blueprints to increase compliance and efficiency.
Anywhere access – Consume diagrams and processes on the go, from nearly anywhere, in a browser or iPad app.
Full fidelity – Use the new web app and iPad app to view diagrams in full fidelity with intuitive pan and zoom.